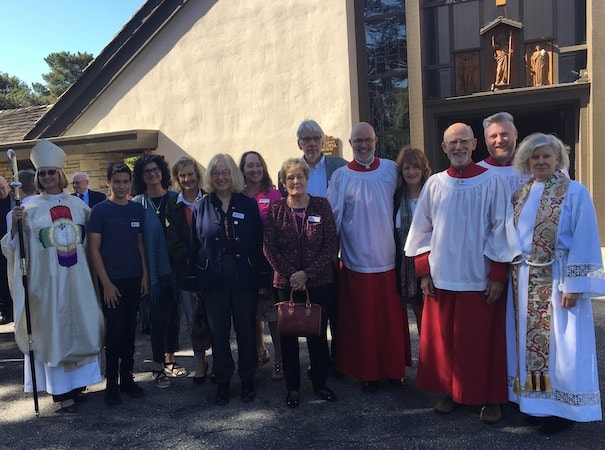 Sunday, October 27, was a significant marker in the life of All Saints' Church. We celebrated the anniversary of our Consecration in 1912 as a Parish within the Diocese of El Camino Real by confirming and receiving 11 new members into our community; and with full hearts, we said farewell to Bishop Mary Gray-Reeves, who will retire in January 2020 after 12 years of loving pastoral care for 42 congregations from Silicon Valley to San Luis Obispo.
The Feast of All Saints' liturgy was celebrated and the day was filled with music. The Choir, under the direction of Kathy Kirkwood with Richard Wilson, organist, offered festive anthems, favorite hymns and reflective Celtic prayer chants. Guest soloist, Jody Lee, soprano, sang lilting verses and soaring descants.
Bishop Mary presided over the service and prayed over each new member, as Rev. Amber imparted to each candidate a gift of The Book of Common Prayer. After the service, a scrumptious brunch was shared, in honor of the Bishop and our new members.
Candidates presented were: Fleur Burke, Oisin Burke, Lisa Lischka, and Kurt Schweickhardt (for Confirmation); Troy Brunke, Don Holz, Kristine Keller, Jackie Lynch, Keri Mistler, and Philip Studer (for Reception); and Kay Holz (for Reaffirmation of Baptismal Vows).
Bishop Mary will be relocating to North Carolina where she will join the leadership of the College of Bishops of the Episcopal Church USA. Before her departure, she will preside over one more service at All Saints' in December as we celebrate the ordination of Susan Stanton to the diaconate.