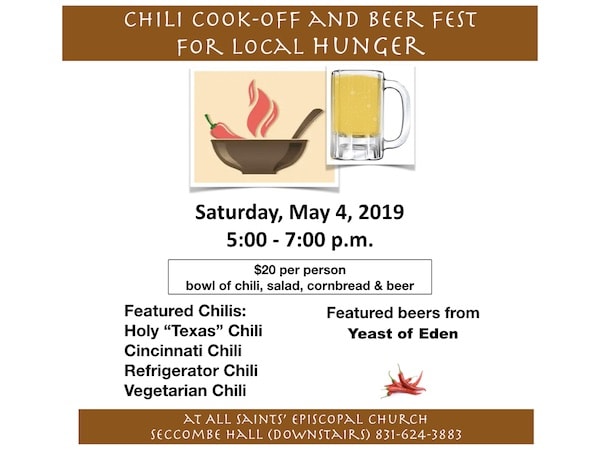 The Outreach Committee of All Saints' Church in Carmel is extending a warm welcome "to the world" to come out for our first-ever CHILI COOK-OFF & BEER FEST on Saturday, May 4, 5:00 – 7:00 p.m. All proceeds will go to help provide food through the church's Community Pantry and food distribution program to those in need in our local communities.
The idea first hatched when two of our own church members began to brag about their chili recipes (one being our own beloved priest)… and the spirit of competition continues to run high among contestants. There are four entries for the Cook-Off, and chili being judged will include: Holy "Texas" Chili, Cincinnati Chili, Refrigerator Chili, and Vegetarian Chili.
Featured beers will be provided by Carmel's own, award-winning Yeast of Edenbrewery.
Everyone in attendance gets to vote, and a very special award will be given to the winning chili maker at 6:00 p.m.
Tickets are $20.00/person, which provides for chili tasting and one portion of chili, salad and cornbread, and one beer. Advance tickets may be purchased from any Outreach Committee member after Sunday services at the church or at the Parish Office, Monday through Friday, 9 a.m. to noon. Tickets will also be available at the door the evening of the Cook-Off. For more information, call (831) 624-3883.
So, please join us! Chili tasting and beer "festing" will commence in Seccombe Hall adjacent to the patio on the lower level of the church campus, entrance off Lincoln near 9th.