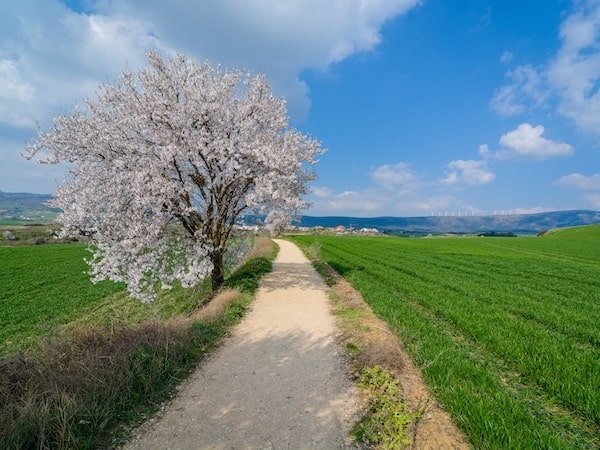 "What do you do when you lose your pilgrim community?" Bishop Lucinda Ashby asked, as she wove together the threads that reshaped her life after walking all 500 miles of the Camino de Santiago de Compostela. Though she walked the Camino alone, her husband made his own pilgrimage on bicycle concurrently; and even though Bishop Lucinda truly wanted the solitude of a solo journey, she was open when important encounters with other pilgrims occurred.
As the fourth speaker in our Wednesday evening Lenten Series titled On the Pilgrim Way, our recently consecrated fifth Bishop of the Diocese of El Camino Real, joined our virtual gathering last week and targeted her words more toward the significant lessons that manifested in her life in the days and months following her pilgrimage, while also sharing nuggets of her life-altering experience.
After the intense focus of those 34 days on pilgrimage, she described the lack of words for telling her story upon her return. She realized she had lost her pilgrim community… those who could readily understand. She knew there was no going back to how things were… so she looked for what was to come, and then the nuggets took shape: Travel light. Stay in balance. Have the courage to become lost.
As Bishop Lucinda highlighted, her life and leadership now was formed on Camino then. Listen to her insightful journey here.
Our Lenten Series concludes next Wednesday, April 1, 6:00 p.m. Please join us online as we revisit our own American Pilgrims in a discussion facilitated by Elizabeth Mullins, PhD, professor of history at Monterey Peninsula College. Check back at this website, for more details.