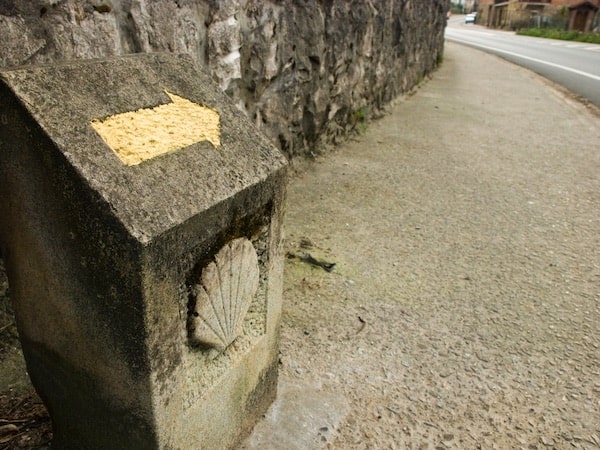 "The journey is essential to the dream" quoted Mary Wyman, from a saying attributed to St. Francis.
Speaking to about 25 people this week at our first Lenten Series gathering, Mary shared that this encouragement from St. Francis, and much more, inspired her to set out solo on the Camino de Santiago de Compostela pilgrimage at the age of 70. Through journal entries and postcards to a granddaughter, she wrote a book about her experience titled Grandma's on the Camino — Reflections on a 48-Day Pilgrimage Walk to Santiago. She says she walked to find the Camino… but she was quick to add that the Camino also found her! Listen to Mary's presentation here.
Mary described that of all the Camino brought to her, one significant thing was a new understanding of self—her body, head and heart. Long before embarking on her journey, her relationship with the pilgrimage began with a short article she read about the Camino's history and significance, and then continued through dreams and mysterious resources that would float cross her path.
In her book's introductory letter to her granddaughter, she shares a Rudyard Kipling quote, pinned for years on her bulletin board at work, that kept her desire kindling. It read:
"Something hidden. Go and find it.

Go and look behind the Ranges.

Something lost behind the Ranges;

Lost and waiting for you… Go!"
The Camino de Santiago or the Way of St. James is an ancient pilgrimage—originally traveled by devout Catholic Christians, and now attracting people from around the world of varied faith traditions, and no tradition at all. Historically, the Christian Church locates the bones of St. James (Santiago in Spanish), a disciple of Jesus, at this near-seaside town. So for over 1,000 years people have made pilgrim journeys for spiritual renewal to the shrine or Cathedral at Santiago where the saint's bones rest.
Mary walked the entire 500-mile Camino Frances, which begins at St. Jean Pied de Port in southern France and crosses the Pyrenees Mountains into Northern Spain, finishing on the Atlantic edge of Spain at Santiago. The French route is included in the World Heritage List by UNESCO (United Nations Educational, Scientific and Cultural Organization).
Note: Our Lenten Series, On the Pilgrim Way, continues this coming Wednesday with Fr. Cyprian Consiglio, Pryor at the New Camaldoli Hermitage in Big Sur as our guest speaker. Read more here about Fr. Cyprian and the other guest speakers scheduled as our Lenten Series continues through April 1.