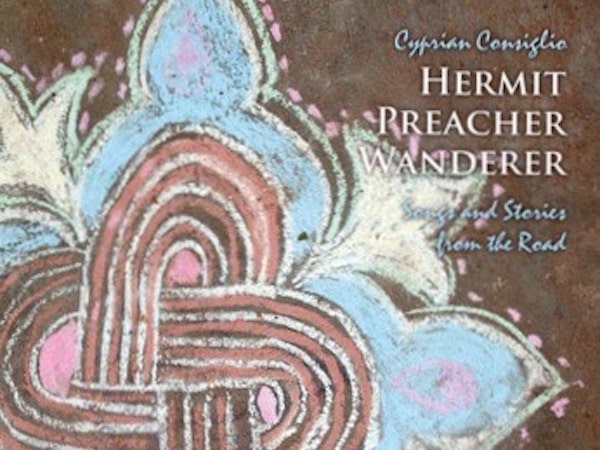 Last Wednesday, in the second week of Lent, we enjoyed an inspirational evening with Fr. Cyprian Consiglio, Pryor of the New Camaldoli Hermitage in Big Sur, who ministered to us in word and song. Listen to the entire presentation here.
Identifying his spiritual journey with our Lenten theme On the Pilgrim Way, he shared from a recent project he published as Hermit, Preacher, Wanderer — Songs and Stories from the Road [a book and MP3 album].
Of his journey, Fr. Cyprian said, "I have come to learn that our vocation keeps unfolding—like a pilgrimage. I open doors and look in. If it looks attractive, I walk in." Then he sang a song that he wrote about pilgrimage, using the poignant words of Spanish poet Antonio Machado's "Wayfarer, the only way…":
Wayfarer, the only way

Is your footprints and no other.

Wayfarer, there is no way.

Make your way by going farther.

By going farther, make your way

Till looking back at where you've wandered,

You look back on that path you may

Not set foot on from now onward.

Wayfarer, there is no way;

Only wake-trails on the waters.
For Fr. Cyprian, a central thought that has helped him step toward ever-new opportunities, came from his Jesuit spiritual director, who once asked him: "What is the greatest good you can do right now? That is your vocation." And it is that sense of the 'greatest good' that has led him forward again and again in his monastic calling.
After his first 10 years at the hermitage in Big Sur, he lived the next 10 years as a hermit in Santa Cruz, and then traveled the world in inter-religious dialogue to which he remains devoted.
In answer to a question at the end of our evening, Fr. Cyprian described 'home' more as life together with his community at New Camaldoli… not so much the place.
Note: On the Pilgrim Way continues this coming Wednesday with Bill Whobrey, PhD, a former professor of literature at Yale University, who will address The Golden Age of Pilgrimage: Medieval Journeys of Faith. Read more here about Bill and the other guest speakers scheduled, as our Lenten Series continues through April 1.