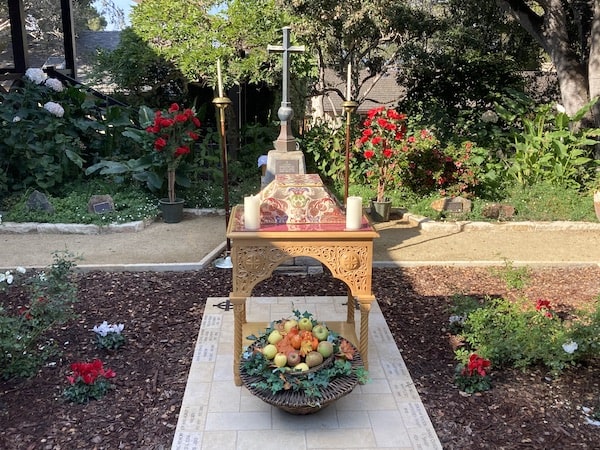 Glorious Central Coast sunshine welcomed approximately 40 people to our Memorial Garden on Consecration Sunday, November 1, 2020. Bishop Lucinda Ashby presided and gave the homily, marking this All Saints Day as one "injected with hope"—poignantly connecting the intricate threads of our shared journey as a parish and a faith tradition with that of our greater belonging to all the saints who have gone before us. Even in the midst of surging case numbers for the pandemic and troublesome regional and national challenges, the Bishop's words brought comfort and courage to those in attendance. (The service recording is also posted in its entirety on the Online Services page of this site.)
The day was the first in-person gathering on our church grounds where a greater number of people were permitted to attend under ongoing COVID protocols for public worship. Previous in-person services during the pandemic have been held at our Santa Lucia Chapel and Campground in Big Sur, and on the campus of All Saints Day School in Carmel Valley—each being one of our Parish Missions.
In the midst of this liturgical celebration, we also said farewell to the Rev. Lisa Bennett, our faithful deacon, who recently retired from her position as development officer for the Diocese of El Camino Real and is moving to the San Juan Islands off the coast of Washington State. Parishioners were sent off with a delicious takeaway boxed lunch of Greek foods provided by St. John's Orthodox Church, which meets on our lower campus.
Pledges for 2021 were gathered up as well, which is our tradition on this annual feast day. Parishioners who would still like to make a 2021 pledge may contact the Treasurer, Tom Bryan (tom.bryan@gmail.com) or the Parish Office (info@allsaintscarmel.org).