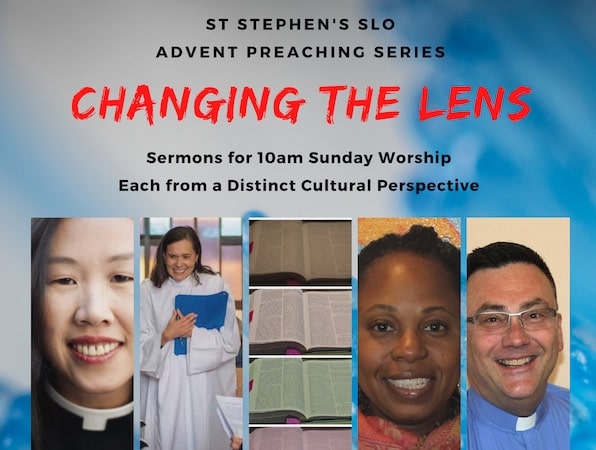 In a year unlike any other, it seems quite fitting that we approach Advent —the beginning of a new liturgical year in our Christian tradition — and look to Changing the Lens. The title for this teaching series being spear-headed by St. Stephen's Episcopal Church, San Luis Obispo, helps reorient us to our shared human story as we await the coming of the Christ.
For three of the four Sundays of Advent this year, All Saints' Carmel will join with St. Stephen's SLO to hear from the Rev. Sayling Wong (St. Timothy's, Sunnyvale), the Rev. Ale Trillos (St. Peter's/San Pablo, Salinas), and the Rev. Rick Uhls (SLO United Methodist). Each brings a depth of experience pastoring multi-cultural church communities to a conversation about "how we discover in scripture the full range of the blessed diversity of God's people."
Advent 1 — Rev. Wong will address "Woke, The Fig Tree, and Other Lessons"
Advent 2 — Rev. Trillos will speak about "Receiving Grace Even In Our Unworthiness"
Advent 4 — Rev. Uhls will share of "Mary's Fiat: Let It Be"
Each service/sermon will be live-streamed and made available to the All Saints' community via email. The recorded services will later be posted to our website for a limited time.
Note: Advent 3 — Rose Sunday will be pre-recorded at All Saints' for email and website distribution with Rev. Amber Sturgess presiding at Holy Eucharist.
For more information, email: info@allsaintscarmel.org