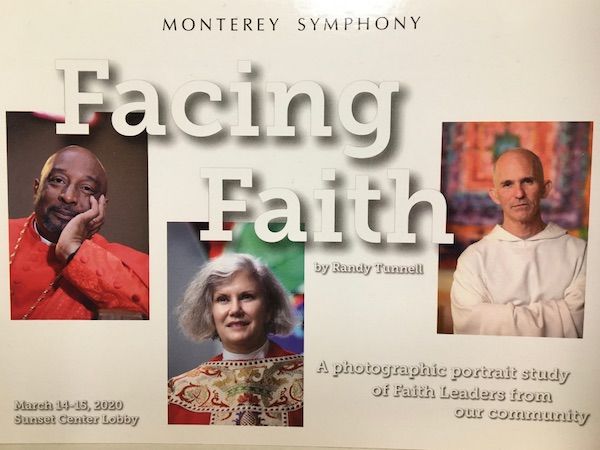 CANCELLED March 14-15. Watch for new dates.
A stunning photographic portrait study, Facing Faith, will be presented by local photographer Randy Tunnell as a Pop-Up Art Show in the Sunset Center Lobby before the March 14 and 15 Monterey Symphony performances. The portraits may be viewed:
March 14, 2020
6:30-8 PM – Pop-Up Art Show
8 PM – Monterey Symphony Concert
March 15, 2020
1:30-3 PM – Pop-Up Art Show
3 PM – Monterey Symphony Concert
Rev. Amber, and Rev. Jon Perez of Epiphany Marina, are two Episcopal priests featured, along with Fr. Ion of St. John's Greek Orthodox Church and almost 20 faith leaders photographed from across Monterey County. Exhibit flyers are available at the back of the church and in the Parish Office.
The Pop-Up Art Show is free. Tickets are required for the concerts. For more information and to read about the photographer's six-month project, or to buy concert tickets, visit the Monterey Symphony website.