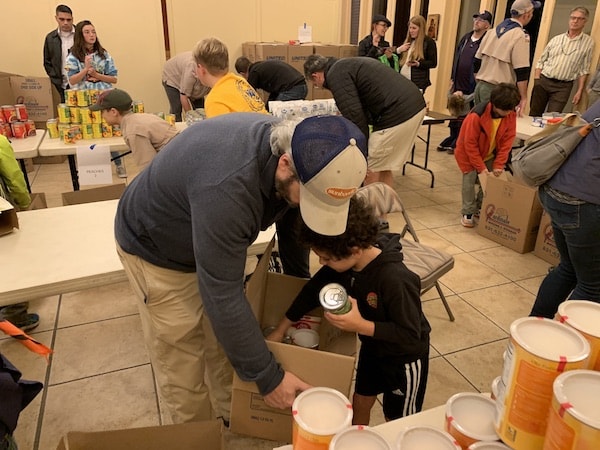 Each year for several decades, All Saints' Episcopal Church has hosted a packing party for Christmas Food Boxes to be given to individuals and families on the Monterey Peninsula and in Big Sur. Boxes are designated for those who are most in need during the holiday season.
Once again on Thursday, November 29, the vibrant voices and laughter of excited children filled Seccombe Hall on the All Saints' campus. Early in the day, All Saints' members set up the tables, boxes, and items to be assembled. That evening Members of Scout Troop 127 of Carmel Valley and their families joined together to pack the Christmas boxes.
This year 96 boxes were packed, each with 22 items of canned and dry goods, including: chili, tuna, vegetables, beans, spaghetti, rice, oats, peanut butter, jellies, cake mixes, and more.
Food items were purchased from The Food Bank for Monterey County by All Saints', with monies from fundraisers and other donations. New boxes were donated from Cardinale Moving & Storage.
Once packed, the boxes are distributed by:
All Saints' Episcopal Church, Carmel
Big Sur Health Center at the Santa Lucia Campground, Big Sur
Epiphany Episcopal & Lutheran Church, Seaside
Nancy's Project (founded by Nancy Costello), Monterey, providing support to area farm labor families