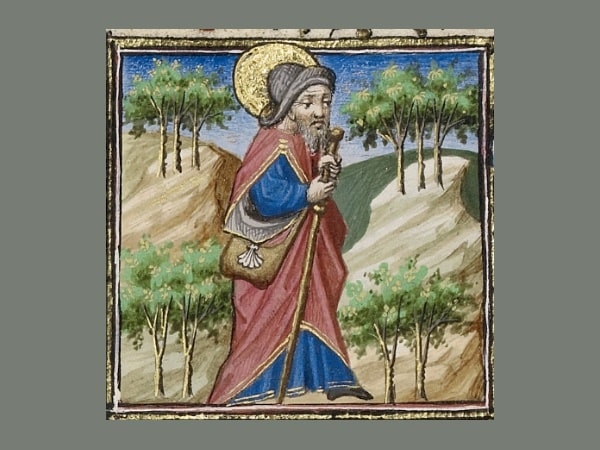 In the opening comments of his talk on The Golden Age of Pilgrimage — Medieval Journeys of Faith, Bill Whobrey, PhD, said, "Everyone in their lifetime makes a pilgrimage of some sort. We are all pilgrims."
Helping us step back and take a broader, deeper view of the history of the practice of making pilgrimage for the human race, Bill began right here in our hometown of Carmel. Highlighting the enormous significance ofMission San Carlos Borromeo de Carmelo, Bill explained why it is a pilgrimage destination for people from around the world. Among several distinctions, Carmel Mission is a place of significance, because it is the burial place of St. Junipero Serra, founder of the California Mission system, and it has been visited by a sitting Pope, John Paul II (in 1987).
Along the course of Bill's talk, we gained greater understanding of the motivations and beliefs of Christendom in the Middle Ages, how and why places became pilgrimage destinations, the practices and identifying clothing of pilgrims, the five greatest destinations for Christian pilgrimage, and the top three destinations in the United Kingdom. We learned that pilgrims were and are seekers looking for healing, forgiveness, belonging… with God. And that usually, typically, they went to a lot of expense and faced great danger to follow the pilgrim path.
At the end of an information-packed hour, Bill concluded saying, "We are all pilgrims, seeking a better home—a heavenly home," and highlighting a New Testament reference in the Book of Hebrews, Chapter 11, verses 13-16, that could describe all humankind even though it speaks particularly of Old Testament seekers of God. It reads:
 All of these died in faith without having received the promises, but from a distance they saw and greeted them. They confessed that they were strangers and foreigners on the earth, for people who speak in this way make it clear that they are seeking a homeland. If they had been thinking of the land that they had left behind, they would have had opportunity to return. But as it is, they desire a better country, that is, a heavenly one.
Listen to Bill's presentation here.
Our Lenten Series continues online for the next two weeks, Wednesday, March 25 and April 1, at 6:00 p.m. Sign-in links will be posted under the dropdowns for "News" and "Events" on this website.